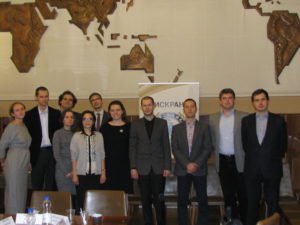 On October 25, 2018, a round table entitled "The USA in 2018" was held in ISKRAN under the auspices of the Council of Young Scientists of ISKRAN. It was attended by young scientists and graduate students from the Institute of the USA and Canada, Russian Academy of Sciences, Institute of Europe, RAS, Institute of IMEMO them. EAT. Primakov RAS, Moscow State University Lomonosov and RUDN.
At the Round Table, presentations on the most topical aspects of US domestic and foreign policy were heard and discussed.
Among the reports on the domestic policy of the United States of particular interest was the report made by the researcher of the Institute of IMEMO. EAT. Primakov RAN, K. polit. n Borisova A.R., devoted to the systemic crisis of the US political elite, as well as the performance of ISCRAN Yu.V. Baldenkova, a graduate student on changes in the US immigration policy of the D. Trump administration with an analysis of the consequences of its implementation.
Among the reports devoted to the foreign policy of the United States, the greatest interest was aroused by the report of the junior researcher of the Research Institute IMEMO. EAT. Primakov RAN Khorolskoy MV about the views of various political forces in Germany on the prospects of German-American relations. An assessment of US relations with European countries was also given in the report of the senior researcher at the Institute of Economics of the Russian Academy of Sciences, Candidate of Political Sciences. Godovanyuk KA, whose focus was on American-British relations.
The participants of the round table did not ignore the topic of US sanctions pressure on Russia, during which the junior researcher of ISKRAN KV Kozlov spoke. and Assistant of the Department of Theory and History of International Relations, RUDN, Candidate of Historical Sciences Butorov A.S.
Due to the fact that after each report, substantial discussions took place, raising new questions in the framework of the discussed issues, it was decided to continue them in the course of scientific events at the ISCRAN site on a regular basis.