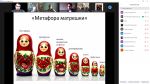 The online seminar took place on July 16, 2020, using the Zoom platform. This conference
was jointly organized by the Junior Scholars Council of the Institute for US and Canadian
Studies of the Russian Academy of Sciences and the Council of Young Scholars of the Institute
for Latin American Studies of the Russian Academy of Sciences.
The event was allowed for a presentation "Donald Trump and American Media: rivalry in
terms of the new disinformation wave" by Pavel Koshkin, Senior Research Fellow of
Department of Internal Policy Studies of the Institute for US and Canadian Studies of the
Russian Academy of Sciences, Candidate of Sciences (Philology).
The speaker highlighted actual tendencies of the modern journalism. Also, he discussed the
reasons of a tense confrontation between the current president of the United States and American
Media. In addition, presenter outlined some of the peculiarities of U.S. Media`s coverage of
Russian agenda. Particular attention was given to problems of public confusion over the
difference between fact-based journalism and opinion journalism. Speaker`s attention also was
drawn to consider the definition of the term "post-truth".
During the Q&A session, reporter appreciated media editors and owners influence on the
journalist approaches in covering certain themes. Besides, there was made a comparison between
the American print media, electronic resources and television channels through the prism of D.
Trump policy interpretation. Other issues, such as prospects for the end of the post-truth era and
the emergence of new trends in world journalism, had also been addressed.
The organizers are planning to continue such type of cooperation between two institutes.